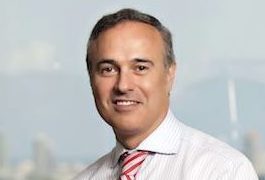 Santiago Ulloa has been working with wealthy families for more than two decades. As founder and one of WE's three managing partners, Santiago is responsible for the firm's overall international business strategy.  In 2000, Mr. Ulloa founded the firm's predecessor company, TBK Investments, Inc., to counsel and advise international high net worth families. Since that time, as one of the world's foremost leaders in the family office industry, Santiago works with client families to enhance the overall function of their wealth enterprises.
In August of 2007, TBK joined forces with GenSpring Family Offices and he served as president of GenSpring Family Offices International. In January 2013, the firm once again became independent as WE Family Offices.
Prior to founding TBK, Mr. Ulloa was with Banco Bilbao Vizcaya, where he led Private Banking for all of Latin America as well as product development and regional distribution for the Americas. He was an active member of the Council Board of Banco Provincial Overseas in Curazao (BBVA Group) and of the "BBVA American Fund Managers Limited" (BBVA's asset management firm). Previously, he was with Argentaria in Argentina and was a member of the Directive Council of Banco Exterior of Argentina. Formerly, he was with Banco Banif de Gestion Privada (BSCH Group) in Spain, where he was part of the international team managing private banking assets abroad and international clients within Spain.
For two consecutive years, he was ranked by Barron's as one of the Top 20 Independent Financial Advisors in the United States and named by Poder Magazine in 2010 as one of the 25 Most Influential Hispanics in the United States. Mr. Ulloa is a frequent guest speaker on CNN Espanol and he is a regular contributor to financial magazines such as Dinero, America Economia, Semana Economica, Poder, and other business publications.
He attended the Universidad Complutense in Madrid, Spain, where he received  an advanced degree in International Economics, and has completed the Advanced Executive MBA Program at IESE in Barcelona, Spain.